FOR OVER 35 YEARS.....















RCM Technologies, Inc. has been a premier provider of business and technology solutions designed to enhance and maximize the operational performance of its customers through the adaptation and deployment of advanced information technology and engineering services. RCM is an innovative leader in the delivery of these solutions to commercial and government sectors.

RCM is also a provider of specialty healthcare services to major health care institutions and educational facilities. RCM's offices are located in major metropolitan centers throughout North America. Since 1971 RCM Technologies, Inc., (RCMT) RCM's core strengths and expertise are a result of more than 35 years of successful hands-on project experience across numerous industries such as Aerospace / Defense, Energy, Financial Services, Life Sciences, Manufacturing & Distribution, Public Sector and Technology.

We continue to expand our service offerings by developing additional capabilities in complementary and compatible technologies and business processes. Our goal is to provide comprehensive, single—source integrated solutions with multiple delivery options so that we can better serve our clients' needs in particular industry environments.

With a strong geographic presence throughout North America, international business alliances, partnerships with major technology companies and our Smart Shore global delivery options, RCMT has the proven track record to help clients maximize performance results and create sustainable value.

Company Profile

Publicly Traded Since 1982 (NASDAQ: RCMT)
2014 Revenue $193 Million
Offices in US, Canada, and Puerto Rico


Powered by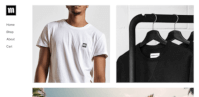 Create your own unique website with customizable templates.